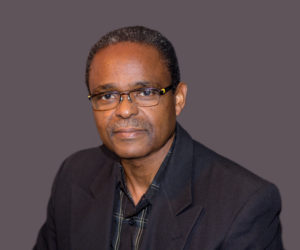 ABNER COPE spent thirty years teaching drawing and painting at Central State University in Wilberforce, OH, where he was an Associate Professor in the Art Department. During that time Mr. Cope also taught in the Art Departments of the University of Dayton, and Sinclair Community College, in Dayton, OH, and Clark State University, in Springfield, OH. He received his Master of Fine Arts degree (1980) from Eastern Michigan University, Ypsilanti, MI, with a major in drawing. He received his Bachelor of Arts degree (1974) from Georgia Southern University, Statesboro, GA, where he majored in painting and minored in printmaking.
Mr. Cope has spent many years honing his special talent for imbuing his painted subjects with light, while simultaneously taking portrait painting workshops to merge talent with skill, and technique. A generous portion of his career has been spent teaching drawing and painting, which provided him with an opportunity to devote a tremendous amount of focus on how the old master painters painted the figure. Abner feels that his thirty-year (1980-2010) teaching career, and services on many boards of museums, and arts organizations have a great opportunity to explore numerous painting styles, and has made him well rounded in the discipline of painting. However, it has been his studies of fifteen years or so, with the renown artists Daniel Greene, and Wende Caporale, of New York, that he credits his introduction to, and his development in portrait painting.
Abner Cope continues to find many ways to combine his knowledge and understanding of painting, with the techniques he acquired from his portrait painting workshops in New York, which is evident in each of his portrait canvases. His fascination with portrait painting is about more than a likeness, although that's mandatory, it's also about having the life-like spirit of the sitter as the ultimate goal.
Abner Cope's figurative work has been received in numerous national exhibitions, in which he has won several awards. His work is represented in several collections, including universities, and hospitals, as well as in numerous private collections. He was also featured in the October/November 2015 edition of the International Artists Magazine.
Currently, Abner lives in Commerce, GA., where he devotes his time taking portrait commissions, teaching workshops and classes at the Oconee Arts Foundation, in Watkinsville, GA., and at the Quinlan Arts Center, in Gainesville, GA. Those who are interested in Abner Cope's upcoming Portrait Painting workshops and classes should contact, abnercope@windstream .net, or 706-335-5733, for more information.